Fresh Garlic Rosemary Bread
What can I say about bread? It's delicious, is that enough? I can easily eat it at every meal even though that will not really work out for my health and fitness goals. It makes me think of the scene from Scott Pilgrim Vs. The World where Scott and Ramona Flowers are sitting there eating garlic bread. Scott tells Ramona that he loves it and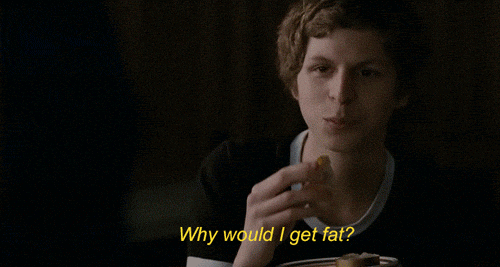 could eat it for every meal and Ramona deadpans back that it will make him fat. Scott in his ignorance asks why before
Ramona states bread makes you fat. Scott then parrots back the same in a shocked and questioning tone. This is generally my thought as well, how can something so good do you so dirty?!
This is heaven in my mouth! – anyone who eats this
We've always loved bread in our house but it usually entailed either having to run out to the supermarket bakery for something they made or picking up some canned pre-made dough so we can at least say we "baked" something. But did we though?
Sure we preheated the oven, popped the can against the edge of the counter, pulled out the dough onto a baking sheet, and stuck it in the oven which was totally serviceable but it was not our own.
It was last Christmas where I got hit with the baking bug. I had already spent all day baking different cookies from scratch and the thought came that we should also have some bread with dinner. I'm not sure why my family never had bread with our holiday meals but it was time for a change. We have an Italian Christmas dinner consisting of Lasagna, meatballs, sausage, and braciole so I thought the best type of bread to make would be a focaccia after having that at Mandola's restaurant. Now, it wasn't the exact same as we've gotten from Mandola's but it was still a hit of the holiday especially when it was paired with some olive oil mixed with Italian seasonings. *chef's kiss*
Ever since then it was on. French bread, bagels, pizza doughs all made with love were erupting from the oven frequently. I will get to those in another post but today we will talk about one that's fantastic with most meals, a garlic rosemary loaf. This bread is so delicious warm and fresh from the oven paired with either some butter or seasoned olive oil.
Luckily, we have a Sam's Club membership so it makes it a bit better on the wallet buying flour and yeast in bulk. Now, let's get baking!
Of course the first thing you'd want to do is make sure you have everything you need at hand. For this recipe you'll need flour, yeast, salt, water, rosemary, oregano, butter and garlic powder. You'll start by proofing the yeast. What is that you ask? Well, hold on, I'm about to tell you. Take 1 1/2 Tbsp. of yeast and add it to 2 cups of warm water. WARM water, not scalding hot. If it's too hot to leave your hand under the water, then you've gone too far. After adding it then stir it up and leave it for about 10 minutes to activate. While you are waiting for this, you can get your dry ingredients ready.
Get a large bowl and add 3 cups of flour but have another cup ready to use in just a bit. I like to use fresh Rosemary so if you like to do the same then grab a twig and start pulling off the leaves. Get about a Tbsp. full and chop it up nice and add to your flour. Add a tsp of salt and about a Tbsp. of garlic powder (I normally just do this to taste so feel free to add more or less). Has it been 10 min yet? If so, go ahead and add your yeast mixture and start stirring together with a wooden spoon. After a bit of time you'll be left with a bit of a sticky mess. This is where the other cup of flour comes in. Callback! Add that together with the rest and start working it together with your hands (only if they are clean, your family doesn't want any of the dirt under your nails, okay?). Knead it down until you eventually get a nice, unsticky dough ball. At this point cover it with a damp (and clean) kitchen towel and keep in a warm spot for an hour while the dough rises. See you in 60 min.
Okay, it's been an hour. Preheat your oven to 425. Lift that towel and you should hopefully see a much larger bit of dough. This is the fun part to get a little frustration out. Make a fist and punch that dough down. Don't be shy. When you are done pummeling the dough, divide it in half. If you have a large family then you can go ahead and make both loaves now, otherwise you have one for dinner tomorrow. You're welcome.
I've been making this in a small bread pan but feel free to use what you have. I sprinkle a little extra flour on the bottom before I put the dough in. Take the half bit of dough and spread it to just about cover the bottom of the pan. Cover it with the towel and let it sit for at least another 10 minutes. When that's done, stick it in the oven and let it cook for about 15 minutes.
Now, I usually see bread recipes online that mine comes out looking a lot different. I believe it's because it's missing this next step. While the bread is cooking for this first 15 minutes get a small pot ready and melt some butter. Add in some more garlic powder and oregano and stir. Once that timer goes off, spread this garlic butter mixture over the partially cooked bread then cook for another 10 minutes.
After the last buzzer rings, take your bread out of the oven and smell what you've been cooking like you're The Rock! It's that easy to have a delicious homemade bread to eat with dinner or whenever you'd like!
It may not necessarily seem like it's that much better for you than something store bought, but it's doesn't have all that processed stuff in it and as an added bonus you'll kill some calories with all the stirring and kneading so I'll take it.
Enjoy!
Fresh Garlic Rosemary Bread


Ingredients


4 cups Flour

1 1/2 Tbsp. Yeast

1 tsp Salt

2 cups Water

1 Tbsp. Fresh Rosemary

1 Tbsp. Garlic Powder or Fresh Garlic

1 tsp Oregano

1 Tbsp. Butter
Directions


Combine 2 cups of warm water with yeast in a small bowl or measuring cup. Leave for 10 min.

In a large bowl, combine 3 cups of the flour, salt, Rosemary, and garlic.

Stir together wet and dry ingredients with a wooden spoon.

Add last cup of flour and work together by hand until you get an unsticky dough ball.

Cover with a damp towel and keep in a warm spot to rise for 1 hour.

Preheat oven to 425 and sprinkle some flour on the bottom of a bread pan

Punch dough down and split in half.

Put dough spread out on the bottom of bread pan. Cover and leave for 10 min.

Put pan in oven and cook for 15 min.

Melt butter in a pot and add some more garlic powder and oregano.

Spread over partially cooked break and cook for another 10 min.

Remove from oven and let sit for 10 min (if you can wait) before cutting.
Let me know if you try it and what you think!